American rap duo "Ces Cru" Live 2018
Written by dilemaradio on November 20, 2017
Ces Cru comes up with a new acronym for each of its releases. But after feeling held somewhat captive by the title of 2013's Constant Energy Struggles, Ubiquitous and Godemis felt creatively liberated when they settled on Codename: Ego Stripper as the title of its second Strange Music album.
"On Constant Energy Struggles, I felt like we were constantly defining what that meant from song to song," Ubiquitous says. "On this one, we're not spelling it out for you."
"The thing that appealed to me about that name is that you couldn't put a finger on exactly what that meant," Godemis adds. "I felt like that was a good angle to come from in writing the music, with no preconceived ideas. I thought that it would open up our writing and draw people in."
The Kansas City duo showcases this newfound latitude on the skeletal "Sound Bite." Sans chorus, Ubiquitous and Godemis deliver stunningly intricate, braggadocio tag-team raps for three-and-a half minutes. "It really showcases our lyrical talent," Godemis says of the Internet hit that has logged more than 70,000 YouTube views in about two weeks. "The beat's kind of empty in a way to where your ear's not taken away by a lot of other different things. The lack of a hook is suicide in a way, I guess, but it's for another MC or a connoisseur of hip-hop."
Ces Cru then flexes its sociopolitical muscles on the masterful "Axiom," a meditation on everything from making a positive change in the world to the War on Drugs and the concept of freedom. In addition to the lyrical heft Ubiquitous and Godemis demonstrate, producer Michael "Seven" Summers adds stirring sonic layers throughout the song. "I really like the pianos that start popping up during Godemis' verse," Ubiquitous says. "The whole front half of the song feels different than the back half. By the end, you're rocking out to the piano. It's a beautiful, thoughtful piece."
While "Axiom" explores stark subject matter, "Hope" celebrates the bliss of enjoying life. "It reinforces the philosophy from the last record about optimism and magnetism and envisioning what you're trying to get for yourself, do for yourself," Ubiquitous says of the cut, which also features ¡Mayday!'s Bernz. "It's on some 'Seven Chakras' stuff as far as keeping a positive outlook on things regardless of whatever you're up against."
To this point, Ces Cru illustrates how it responds to stress on the soulful, laid-back "Pressure," which also features Rittz. "Pressure implies a manic mind state, but the song is about what is pressure for us: chillin'," Ubiquitous says. "I think a lot of rap these days is very turnt up, trap, high-energy rap with this fast lifestyle, glamour content. That's very prevalent on radio and we made a chill record. That was on purpose. It's not all about rapping your head off. It's about chilling out, vibing out."
The duo ratchets up the intensity on "Whips," a concept cut about cars that features an impressive succession of sound effects. "You can kind of close your eyes and see everything that's going on in the song," Godemis "We took a lot of time to get it right so that it does sound like we're on the highway with big rigs passing by and there is a helicopter in the air. It's a lot of fun."
Ces Cru keeps the sounds scintillating with "Que Lastima," which features a hyper, boast-heavy verse from Angel Davanport. She was featured alongside Game and Tech N9ne on the latter's "Priorities," a cut from his 2013 album, Something Else. Ubiquitous was happy to feature the talented act on one of his group's songs. "I kind of look at Angel Davenport as our secret weapon because she's going to be virtually unknown to most people when they hear the record and I think that is a delight to the listener, to give them something fresh and new and good," he says. "That's what I wanted to do with Angel and her talent is maybe only 30 percent exposed on that track. She's got a lot more tricks in her bag."
Ditto for Ces Cru. The group formed in the early 2000s and became a duo after the release of its debut album, 2004's Capture Enemy Soldiers. The pair appeared on a string of local releases before releasing its next album, 2009's The Playground. Buoyed by such songs as the break-up anthem "DYT," the chest-thumping "Float" and the politically-charged "Teeter," The Playground impressed Strange Music co-owner Tech N9ne.
In 2010, Tech N9ne featured Ces Cru on his Bad Season mixtape and had Ubiquitous and Godemis open for him at Kansas City's The Beaumont Club. The group then joined the Strange Music roster in 2011, released the 13 EP in 2012 and followed that up with 2013's Constant Energy Struggles. The acclaimed collection features several singles whose videos have become viral hits: "When Worlds Collide" (more than 1.1 million YouTube views), "Seven Chakras" (more than 900,000 YouTube views) and "Juice" (more than 750,000 views) among them.
As it is wont to do, Ces Cru looks at its older material as it evaluates its new work. "When I think about our catalog and how it's evolved, I feel like Constant Energy is a super-dope album, a very important album," Ubiquitous says. "But, when I hear it, it sounds like we teamed up, cliqued up with some new guys – and we did. With that, I feel like the new album is back to us being us. We kind of took the reins back and it sounds more like our earlier work, more like Playground. We were very hands-on with this album to make sure that it sounded different than our last project."
With that mission accomplished, Ces Cru shows with Codename: Ego Stripper its ability to refine, update and enhance its music while creating special material. "We want to make something that will last," Ubiquitous says. "We don't want to do something that has a hot single on it, nine throwaway tracks, a couple average ones and then just pump out a record 10 months later. I feel like all of our albums should be able to last a couple years. People still bump Playground and that came out in 2009. That's a five-year-old album. That's the standard."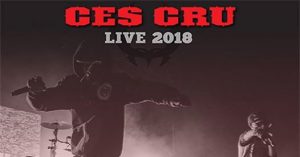 GET YOUR TIX NOW : https://www.facebook.com/events/510749299287750
---
Reader's opinions
---