---
Artist "Rico Jeezus" Underground Rapper To Know
Written by dilemaradio on August 28, 2017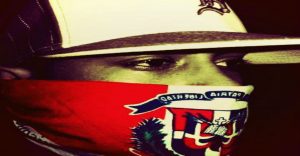 RICO JEEZUS is an American recording artist born in Panama City, Panama; the son of an American serviceman stationed there and a Dominican mother. He was raised in the Dominican Republic briefly before traveling to the United States, eventually settling in Kalamazoo, Michigan. His parents divorced shortly after and he went on to be raised by his mother.
RICO was a voracious reader and won a Young Authors award in grade school. He and a group of fellow students were honored with a local trip to Western Michigan University, where he would go on to graduate cum laude with a BA in political science later on in life.
Throughout his schooling he wrote poetry and hip hop songs half-heartedly as the realities of normal life closed in around him. He began to see the world the way it truly was. He saw people doing things they hated every day to afford just enough food, shelter, and clothing to make them believe they were making progress.
RICO saw dead eyed beings all around him simply going through the motions. He saw zombies going numb in front of dazzling lights on television sets in every home and people desperately clinging to their families and children for identity and some form of validation of their existence. He saw individuals whom had let their dreams die through indifference at the behest of the loved ones in their lives urging them to be "realistic", and others finding comfort and purpose in abusing food, drugs and alcohol.
His observation of everything around him aroused a kind of crisis within him in which he felt the need to leave the US to find some sort of happiness. During his time at WMU he considered finishing his undergraduate education abroad. He was accepted to study at a university in Madrid, but chose to be more conventional and finish school locally, the cheaper way, to reduce his loan repayment burden when he found his way into the full-time workforce.
He noticed something strange happening. He felt he was losing his imagination, his ability to think creatively and to take chances. And it caused a severe anxiety within him to believe that he was losing the best of himself under the boot of a life path he was told would lead to happiness. He would wake up each day and stare at the ceiling of his campus apartment under the weight of an impossible sadness. He would lie there, with nothing to look forward to, and the truly bone chilling feeling that he was more dead than alive.
One summer day after walking home from the university, he threw down his book bag, and turned on some Miles Davis. He poured himself a glass of rum, stared out of the window next to the desk in his bedroom and began typing a story. That day of inspiration led to everything after. He began writing songs again and found purpose in life. He promised himself that he wouldn't live the way he had again because he now understood the consequences of ignoring his heart. He knew that the price of compromising his vision was death.
RICO made a decision henceforth that he would rather fail and deal with the harsh consequences of creating art that people rejected and not succeed in chasing his dreams, than to live as though dead in corporate servitude always wondering if his art would have given him life.
https://www.youtube.com/watch?v=f_GYlZJyiBY
https://www.youtube.com/watch?v=7SKIUOLKeTE
---