Emcee – Producer "Grand surgeon" part of the Hip-Hop Culture
Written by dilemaradio on September 11, 2017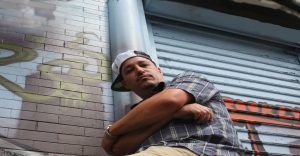 Will P. a.k.a. The Grand Surgeon has been in the Hip Hop culture since the late 1970's. At an early age growing up in Park Slope, Flatbush and East Flatbush Brooklyn he was exposed to the roots of Hip Hop from D.J.ing to B-Boying to Rapping from it's early days. During the mid 70's as a child he would spend time with his brother (Crazy Dreski) and visit his family where his teenage Aunt would have weekend parties which consisted of Disco dancing, m.c.'ing and the original form of D.J.'ing with Uprocking (Brooklyn Top Rocking) moves being exhibited. That was only the beginning.
During the late 70's in East Flatbush he saw a local street D.J. KEZ perform mixing and scratching of Reggae Dub music as well as chatting on the mic in front of his home and also block parties. It was the early 80's which exposed him to rollerskating, and B-Boying on the streets of Brooklyn- Coney Island, Sunset Park and Fort Hamilton Pkwy., to the rollerskating rinks (U.S.A.,Roller Palace, Empire Roller Rink,Park Circle Rink) parks and clubs eventually. In the early 80's a rap group called KINGSTAFF formed (Justice, Dreskee, m.c. Noise & Will P.) which had linked a record deal w/ the label that produced the cult rap classic "Rappin' Duke" and was affiliated with the popular N.Y.C. underground radio show "D.N.A. Hank-Love".
This is where Will P. got the title "Grand Surgeon", he would make the earliest forms of mixtapes with cuts and scratches and rapping without the use of a d.j. set. He would edit the mixes using 1 turntable, metal tapes and two boom boxes with a receiver. After turmoil due to crime, and illegal activities by some members of the Staff voided their recording deal, Will continued to develop his skills. In the mid 90's he helped develop the Underground rap group 67MOB. Since then he has been on dozens of mixtapes, solo tracks with featured artists ie. Tragedy Khadafi, Cutty Ranks, KRS One, Big Noyd, Sadat X, A.G. (D.I.T.C.), Ruste Juxx and more legendary M.C.s and upcoming artists. He linked up with the upcoming cutting edge label Eight Sixty Records also forming the group "Lyrical Science".
---
Reader's opinions
---