---
"Hopsin"5th studio album Released on November 24, 2017
Written by dilemaradio on December 2, 2017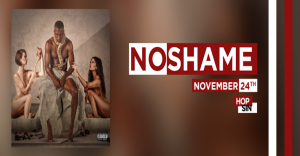 Hopsin's new album No Shame is now available for streaming and downloading at various digital locations.
Marcus Jamal Hopson better known by his stage name Hopsin, is an American rapper, record producer, director and actor from Los Angeles, California.
In 2007, he was signed to Ruthless Records, and had founded his own record label, Funk Volume, in 2009. He would then go on to found another record label, Undercover Prodigy, in 2016. Hopsin has released five studio albums, Gazing at the Moonlight through Ruthless Records, Raw, Knock Madness and Pound Syndrome along with the collaborative project Haywire with SwizZz through Funk Volume and No Shame.  He is well known for his use of white colored eye contacts in music videos, performances, and interviews.
Marcus Hopson was born on July 18, 1985 in Los Angeles, and was raised in the Panorama City neighborhood of Los Angeles. He attended James Moroe High School where he was placed into special educational classes. Hopsin has been an avid skateboarder since the age of twelve, and many of his music videos feature him skateboarding. He started rapping at sixteen years old, and took his hobby more seriously by 2003 which is the year the majority of the tracks from Hopsin's self-produced album Emurge were recorded. He dropped out of high school during his senior year in 2004 to pursue a career in music, purchased a microphone, and installed FL Studio (known as FruityLoops at the time) on his computer. While starting his music career, Hopsin decided to sport colored eye contacts while performing in his music videos. He stated that he used the contacts to give himself a memorable appearance and differentiate himself from other African American rappers with the cliché appearance. He credits Eminem as the rapper that initially got him interested into hip-hop music.
In January 2016, Hopsin had announced on social media that Funk Volume is "officially dead", due to ongoing business issues and financial disputes with his business partner and co-founder of the label, Damien Ritter. In March 2016, Hopsin officially left Funk Volume and has since founded his own independent record label company, Undercover Prodigy. He released "Ill Mind of Hopsin 8" under the label, which is also a diss song to Damien Ritter. In February 2017, Hopsin confirmed his fifth studio album and released his single titled "All Your Fault".
On September 22, 2017, Hopsin released a single titled "The Purge". The following single, "Happy Ending", was released on October 13, 2017. In the same month, Hopsin confirmed in an interview that he signed a distribution deal with 300 Entertainment . On November 1, 2017, Hopsin released the single "Witch Doctor" and confirmed his fifth studio album, titled No Shame The album was released on November 24, 2017. 
---